Sometimes things go smoothly and sometimes they don't. There are quilts that just get finished in the blink of an eye and there are others that just seem to take forever. This is a story about two such quilts.
The easy one
I love the site Moda Bake Shop. Moda fabric is gorgeous. The site is completely made up of quilting patterns from an array of designers, using Moda fabric. They have their patterns organized by designers (Chefs) and by pre-cut type (Ingredients). They also have easy to follow instructions with lots of pictures.  I have a lot of pre-cuts that I'm always trying to figure out what to do with, and this has been incredibly helpful.
When my friend's daughter Netta got engage, I knew that I was going to make a quilt as an engagement present (it's my go-to gift). My daughter is friends with Netta, so I had her pick out the fabric from my stash. She picked out a very happy fat quarter bundle for me to work with. I did a search on Moda Bake Shop for a fat quarter pattern that would work, and decided to make the Tulip Fields Quilt.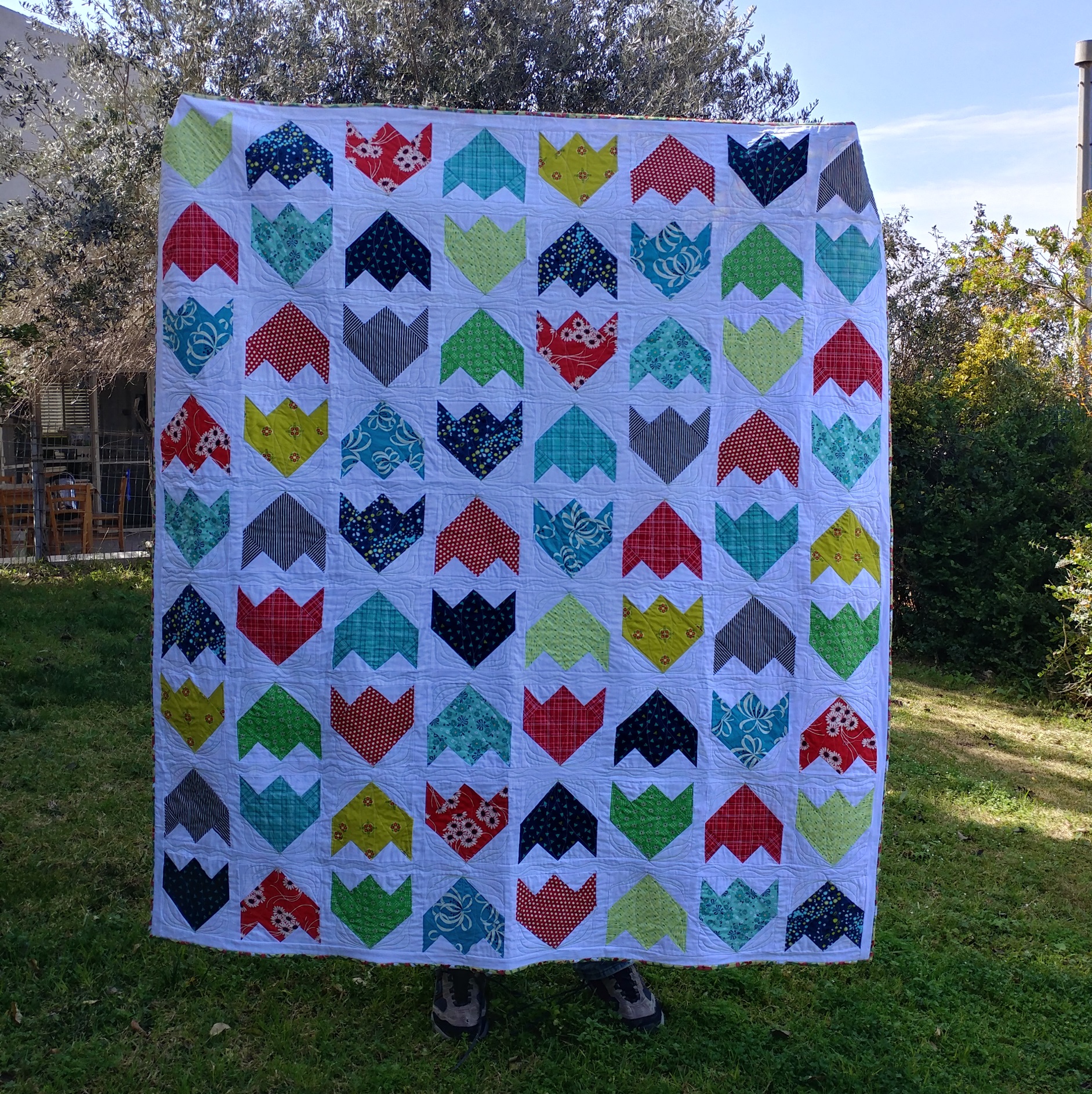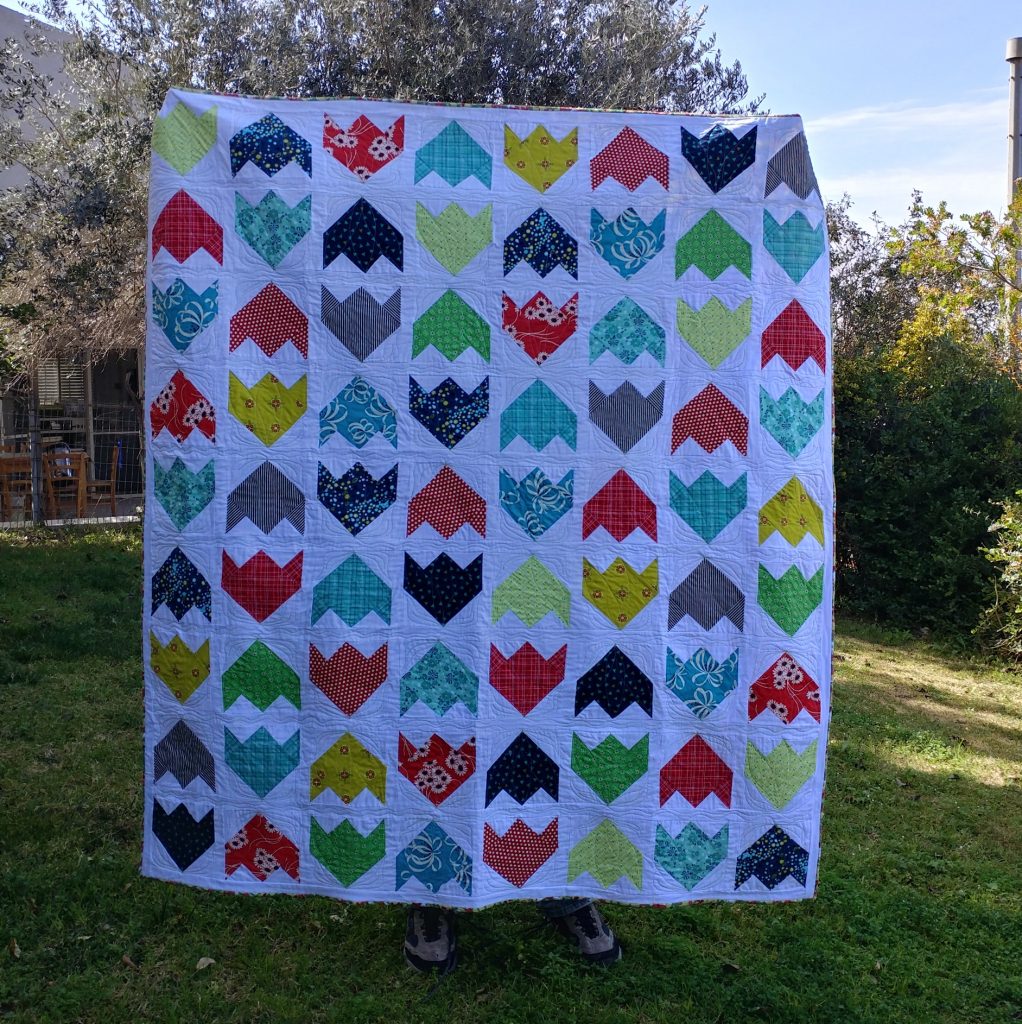 I cut all my fabric according to the directions and started sewing. (There is on thing that I would change with the pattern – instead of the 4 inch square to make 1 half square triangle, I would calculate what I needed to make two triangles from each square – maybe a 4 1/2 inch square – and save some fabric. The left over triangles will used in a future project.) The quilt top went together in three days. I bought backing fabric and spent another couple of days quilting it and one evening binding it. And the quilt was done.
I had a lot of fun quilting this quilt. Since they are flowers, I emphasized the tulips by quilting petals in white thread and I switched the thread to green quilting vines and leaves. (I know that tulips don't grow on vines, but it still works.)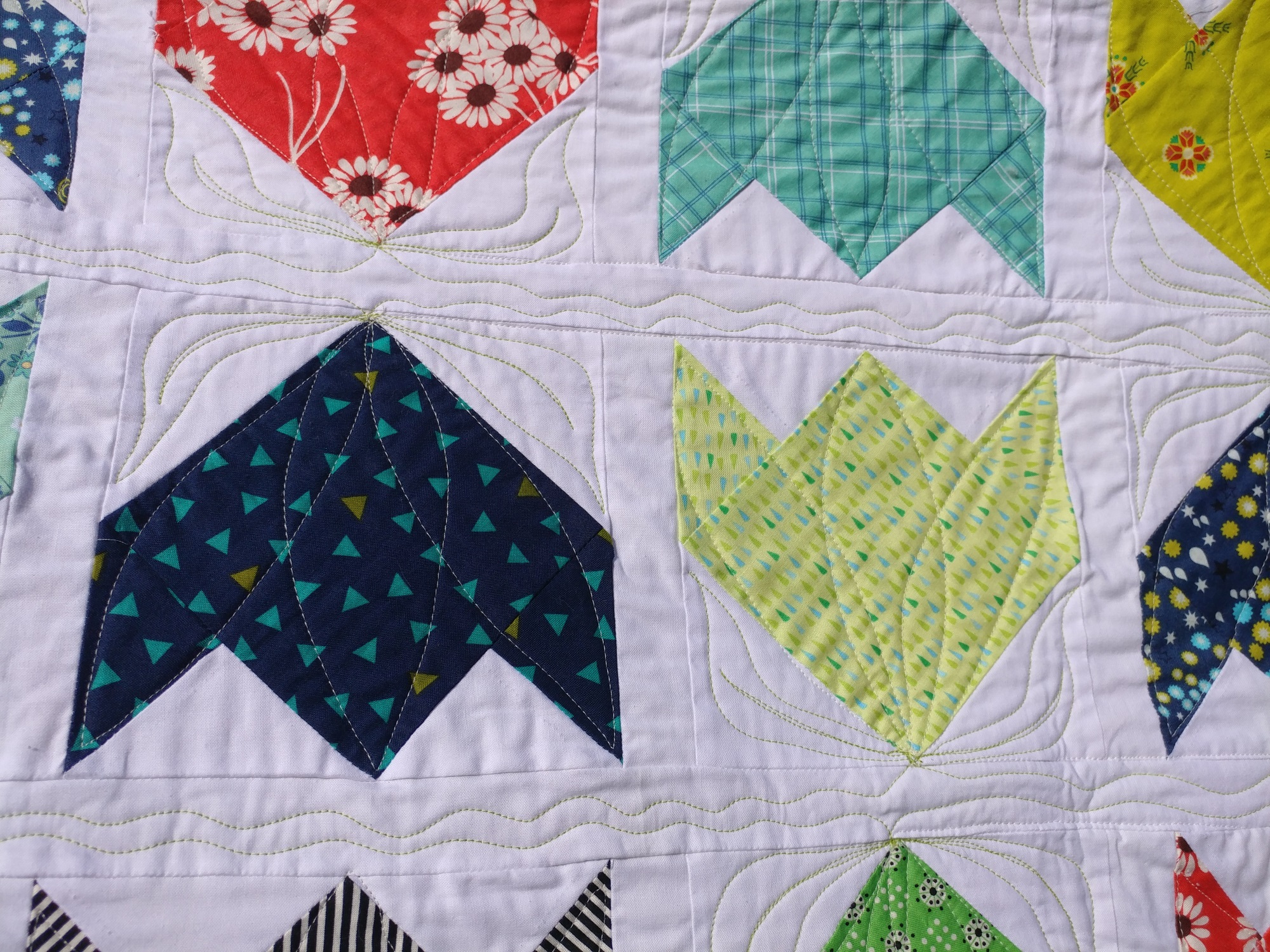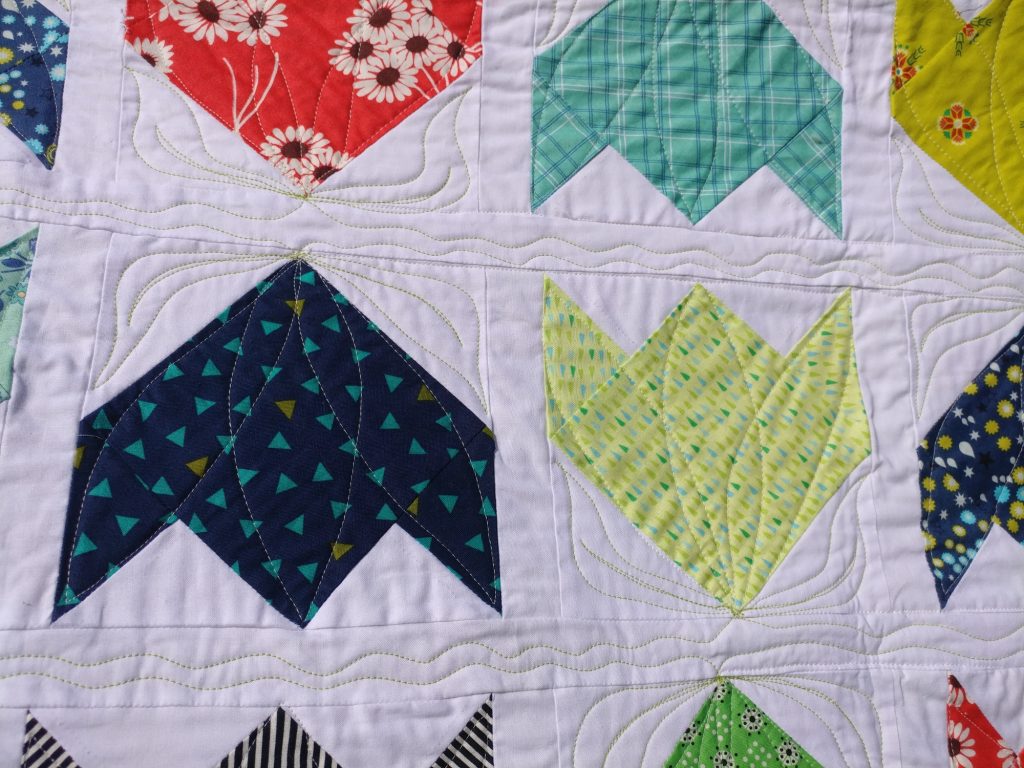 The hard one
I have been working on this quilt for so long, that I don't remember when I got started. One of the first quilts that I made was for my niece, Naama. It was a disaster. Every so often I think about stealing it back from her and hiding it away so no one but me can see it. (I wouldn't destroy it – I like to see how far I've come.)
To make up for the lousy job I did on it, I figured it was time to make a new quilt. I had her pick out the fabric from my stash – a really beautiful layer cake – I gave her some options for patterns, she choose the one she liked best, and got to work.
The pattern that we choose was designed by Jenny Doan from the Missouri  Quilt Company. A couple of times a year they have fantastic sales. When they do, I buy. They usually send gifts with it too. With one of my orders came with a set of Blocks magazine. That's where we found the pattern. Jenny has made a video (it's the second quilt) on how to make the quilt.
I got off to a good start. I cut up all my background pieces and started to sew. Until I realized that my layer cake only came with 40 squares and not the 42 that was need for the quilt. Not to worry. I have plenty of fabric and I matched up colors and started cutting. As long as I was adding fabric, I took out a couple of squares that I though were too light and didn't give enough contrast to the background fabric.
To make blocks, the first thing I did was make make hourglasses with each square. After the hourglasses, it was time to cut up the blocks and put them back together. That's where potential problems come into play. I did not cut them all up correctly, I messed up two of the blocks. Back to my stash I went and started the process again for the two. I then put together the rest of the quilt top. It's a huge quilt so it took me time, but I finally did it.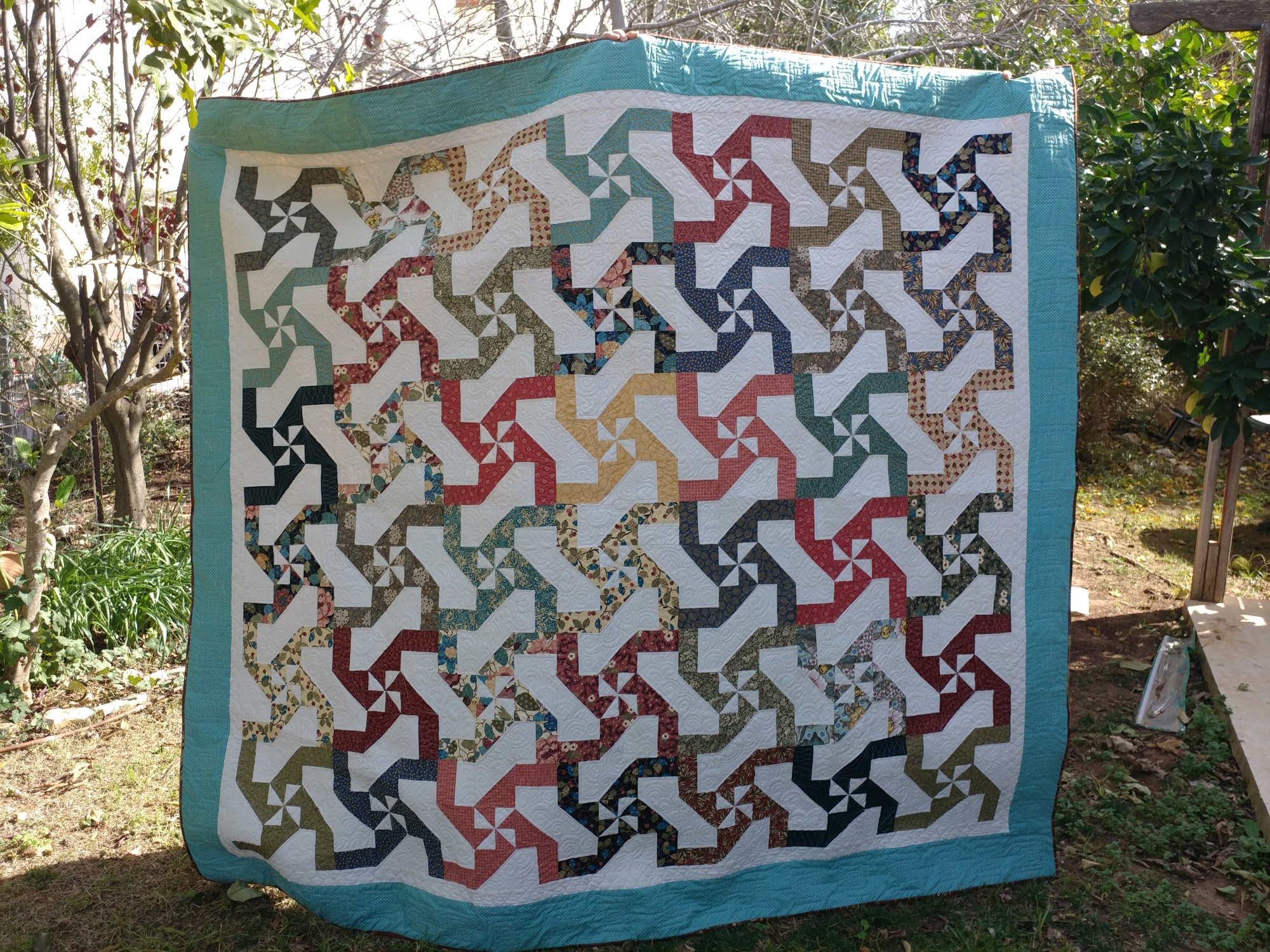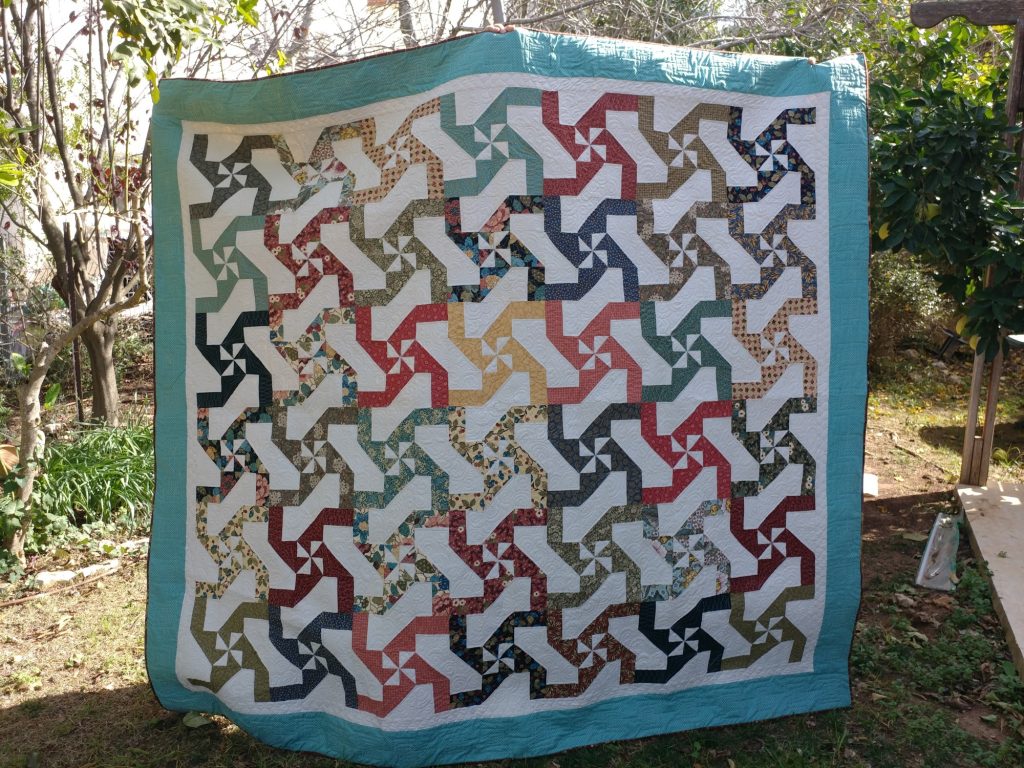 I thought I had backing fabric in my stash, but it was too small. I went to the fabric store to buy backing. When I brought it home and tried to figure out how to put it together, I found out that it would just fit, without leaving any room for extra on the side. I need to have at least 4 inches of fabric on each side to be able to quilt it, so it was back to the shop. They were out of the original backing fabric, so I choose something else, which I actually think came out nicer.
Then I put the quilt away. I knew that I was getting my long arm machine, so I waiting for it to come to do the quilting. It sat there for another couple of months after I got the machine. I didn't want it to be the first quilt that I did on the machine. I wanted it to come out perfectly.
The day finally came. I started quilting. I had all sorts of problems with tension when I started, but I finally got it all sorted out. It was all going well. I was in my groove and having so much fun. Until I broke my machine.
I was quilting too quickly and the bobbin got all messed up. The machine needed to be taken in and fixed. I guess I should have paid more attention to the beeping that it made while I was quilting. Dark days followed. I was without my machine for a few weeks.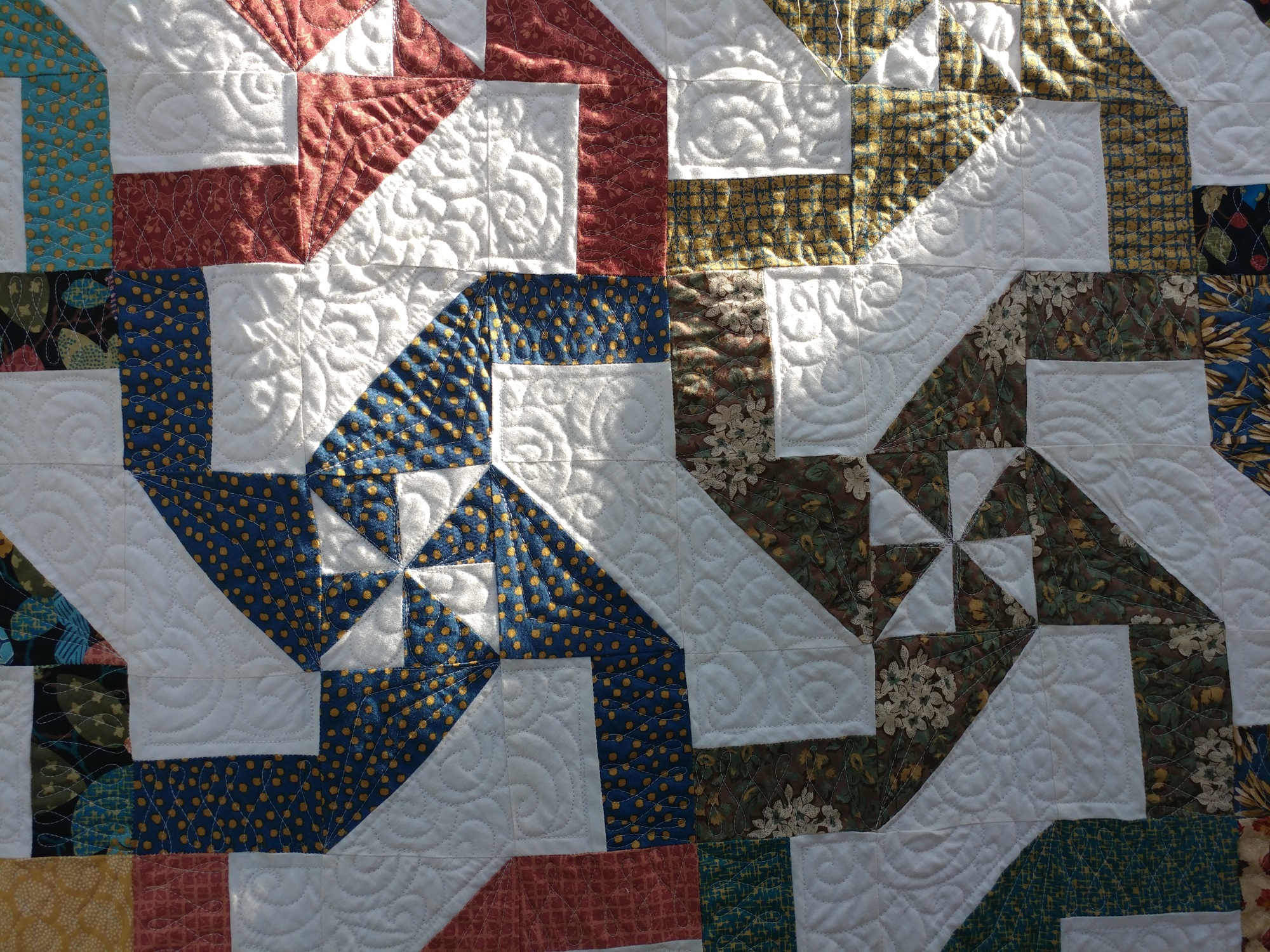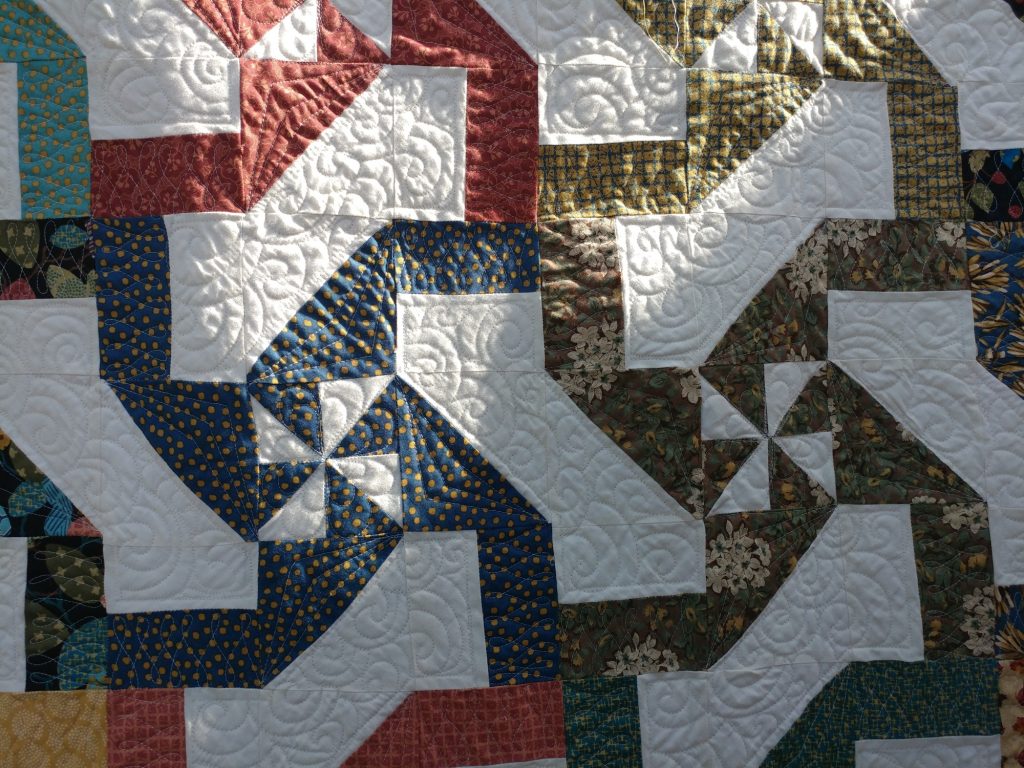 I got it back and I finished it up. Looking at it, there is no way that anyone could tell the headaches that this one quilt caused me. I think it looks great and I'm very happy that I did it. Challenges are good. I just wasn't expecting this one to be a challenge.
Conclusion
I am very happy with both quilts. Because of the trials and tribulations that I had with the second quilt, it makes it more special to me. I'm glad that I made them both. I hope that both Neta and Naama have many happy years of snuggling under them.